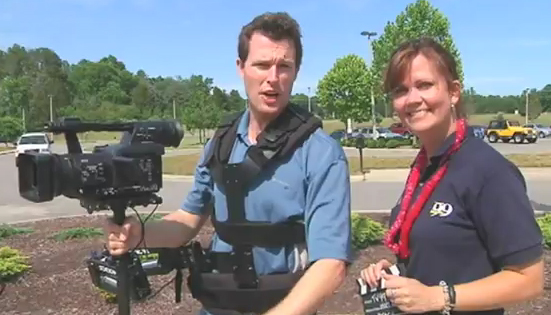 Tripp Wells, Stacie Marshall and students & faculty creates video that prompts REO Speedwagon Makes an Unscheduled Stop To Visit Hanover County Public Schools
REO Speedwagon Makes an Unscheduled Stop To Visit Hanover County Public Schools

REO Speedwagon Makes an Unscheduled Stop To Visit Hanover County Public Schools
Iconic rock band, REO Speedwagon, is making an unscheduled visit Hanover High School at 10307 Chamberlayne Road in Mechanicsville, Virginia, on Friday, May 18, 2012. The band discovered that their song "Roll With The Changes" was part of a school district "lip dub" video that was taped at Hanover High last year. More than 1,000 students and staff participated in the video produced to generate excitement to usher in a new school year and the new superintendent.
The video was posted on YouTube where thousands of viewers across the world have viewed the unique music video, which was shot as one continuous shot from beginning to end.

This week the video was posted on the official REO Speedwagon website. Kevin Cronin, the front man and vocalist that has been with the band since 1972, posted "Oh my God...I just watched lip dub of Roll With The Changes from Hanover, Virginia and I literally have tears in my eyes at the finale. This is the coolest thing ever!
Thanks to all of the 1000 people who make it happen. You guys are awesome," Cronin said. Management for the band contacted the school division this week to see if the five-member group could visit the participants where the project took place. The band is scheduled to arrive at Hanover High School for an official tour of the lip dub route at 12:45 p.m. tomorrow. The will also participate in an informal question and answer session during their visit, which will be moderated by the high school journalism students. "It is really exciting that this video, which started as an instructional lesson in camera movement for our Mass Communications students, will end with another educational opportunity for our students." said Stacie Marshall, the lip dubbs director/producer. "It's also just such a thrill to learn that international recording stars liked our little locally produced video." added Trip Wells, the video's Steadicam operator and a producer of the video. Marshall and Wells manage the cable television station for Hanover County Public Schools, TV99, which is staffed primarily by high school student interns, and the two came up with the idea to produce the district-wide lip dub that ultimately featured REO Speedwagon's chart-topping song.


"When we saw how well the lessons with the students were going, we thought we could definitely do this. What better way to show our school district's team spirit than to all come together to make a video." said Marshall.
REO Speedwagon began "The Midwest Rock 'N Roll Express" Tour earlier this month with Styx and Ted Nugent. Stops include Bristow, Virginia on Friday, May 18 and Virginia Beach on May 19.